Floor leveling and self – leveling mixtures
"Vides Tehnika" offers SAKRET dry mixes for outdoor and indoor works, which are ready for use. SAKRET dry mixes are an effective solution for construction work. They greatly facilitate the construction process, making it faster and better. The simple development of dry mixes provides opportunities for an effective, individual solution in any construction site or backyard work.
SAKRET floor leveling and self-leveling mixtures are a great solution for leveling floors before finishing. Suitable for concrete substrates and heated substrates before finishing.
In order to choose the most suitable solution for your wishes and needs, we recommend that you get acquainted with the operational and technical properties of each material. We also recommend that you consult with our specialists, who will help you find the most suitable solutions according to your wishes, needs and possibilities.
Contact us!
General construction materials and consultations
Edijs Čistovs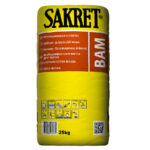 SAKRET BAM is intended for leveling floors before finishing. It can be used as a finishing coating for lightly loaded surfaces, for leveling full and partial horizontal planes, as well as for creating slopes.
*
Please wait for confirmation of product availability!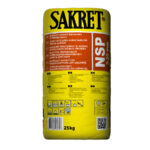 SAKRET NSP is a cement based, fast curing compound for floor laying (3 - 20 mm). It has self leveling properties and ensures full and partial leveling of horizontal surfaces.
*
Please wait for confirmation of product availability!