Construction adhesive tapes for sealing joints
Construction adhesive tapes for sealing joints are single-sided, high-performance adhesive tapes designed for durable bonding of vapor-impermeable thermal insulation layers. These adhesive tapes have high efficiency and are resistant to natural wear.
Their application is wide – for the installation of windproof joints, for the repair of cracks and membranes under the roof layers, for the construction of various building materials, such as foil, concrete, wood, metal, etc. for sealing cracks, sealing the joints of the vapor-tight coating of roofs and internal structures, joints for building panel joints (OSB boards) inside the premises to secure the through joints at the insulation level (eg exhaust pipes, electrical cable ducts, windows, rafters, etc.) , roof structures and elsewhere.
The intended use of each adhesive tape may vary. In order to choose the most suitable solution for your wishes and needs, we recommend that you get acquainted with the operational and technical properties of each material. We also recommend consulting our specialists.
Contact us!
General construction materials and consultations
Edijs Čistovs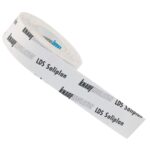 Knauf LDS Soliplan adhesive tape is a single-sided white sealing tape for interior use, a carrier layer based on bag paper. The carrier layer allows the tape to be easily peeled off the roll.
Title
Code
Width (mm)
Length (m)
Price (m) with VAT
Availability

*

Price per roll with VAT
Quantity for purchase in rolls
Knauf LDS Soliplan, 60mmx40m
2358074
60
40

€

0,42

Is in stock

€

17,12
*
Please wait for confirmation of product availability!