Contact us!
General construction materials and consultations
Edijs Čistovs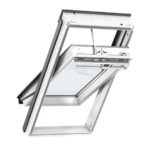 Roof window GGU 008230 is ideal for situations where certified building elements for a passive house are required. This is the first and only roof window on the market that is certified for use in Class A passive house structures in cold climate regions. This skylight consists of a triple outer double glazing and an additional double inner double glazing. The Uw value of the roof window itself is 0.51 W / (m2K) (EN ISO 12567-2), which is the best value on the market. The skylight runs on solar panels. Solar-powered shutters or parasols can be added to increase comfort.
*
Please wait for confirmation of product availability!