Contact us!
General construction materials and consultations
Edijs Čistovs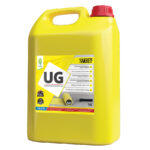 SAKRET UG is a universal primer that strengthens the substrate, evens out and reduces water absorption. Designed for walls, floors and ceilings, outdoor and indoor works. It is resistant to weathering. It has a yellow color - to identify primed surfaces. With minimal aroma.
*
Please wait for confirmation of product availability!