Contact us!
General construction materials and consultations
Edijs Čistovs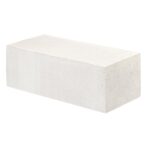 bauroc ACOUSTIC block is a product with excellent airborne sound insulation. Suitable for the construction of load-bearing and non-load-bearing interior walls of buildings, which are subject to increased sound insulation requirements. For construction of partitions of health care institutions, classes of educational institutions (walls without doorways), partitions of office premises, as well as walls between groups and sleeping rooms in pre-school educational institutions. Usable in multi-layer wall constructions used in apartment buildings in partitions between apartments, as well as in the walls of technical rooms with increased noise and walls between living and working rooms.
*
Please wait for confirmation of product availability!