Contact us!
General construction materials and consultations
Edijs Čistovs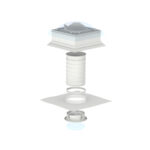 VELUX light tunnel TCF is designed for sloping roofs with profiled cover, corrugated pipe. The recommended length of the tunnels is 0.2 - 0.9 m between the roof and the ceiling. One meter long, highly reflective, flexible tunnel with a diameter of 35 cm. Easy to assemble. The easy-to-mount diffuser is supplied with a matte polycarbonate insulation frame. The roof dome is available in acrylic or polycarbonate.
*
Please wait for confirmation of product availability!