Contact us!
Thermal insulation materials, their application, solutions and consultations (eco-wool, wood fiber materials, cellulose and fibrolite)
Intars Rozmans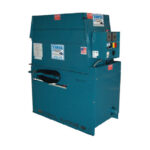 "VIDES TEHNIKA" Ltd offers the American manufacturer "Krendl Machine Company" thermal insulation material installation equipment Krendl 1300, which is ideally suited for the installation of eco-wool and bulk mineral wool. Krendl 1300 gives you the opportunity to significantly increase the rate of application of thermal insulation materials, as it is also equipped with a particularly large compressor for the application of large amounts of material. The device ensures maximum material mixing, a spacious funnel and versatile applications.
Title
Code
Sizes (cm)
Type
Category
Materials
Funnel volume
Weight
Power
Availability

*

Price on request
Quantity to buy
Krendl 1300 installation equipment
krendl1300
-
Blower
For professionals
For all types of thermal insulation materials
113 m3
343
Single supply, 30 amp / 240V / 60hz double supply, 20 amp and 30 amp / 120V / 60hz

On order

€

0,00
*
Please wait for confirmation of product availability!