Contact us!
General construction materials and consultations
Edijs Čistovs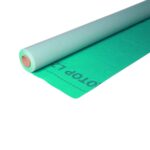 EUROTOP L2 wind membrane combines a unique combination of properties - watertightness and water vapor diffusion. The high watertightness of the material protects the roof structure from moisture that can enter through the roof covering, moisture caused by condensate and moisture brought in by the wind. Due to the high water vapor permeability of the EUROTOP membrane, it is not necessary to create an air ventilation gap between the thermal insulation material and the membrane. In both roof and wall constructions, the thermal insulation material can be placed directly next to the membrane, thus it is possible to increase the thickness of the thermal insulation material and this in turn reduces energy losses.
Title
Code
Width (m)
Length (m)
Square (m2)
Price (m2) with VAT
Availability

*

Calculator
Price per roll with VAT
Quantity for purchase in rolls
EUROTOP L2 wind membrane, 75m2
62034
1.5
50
75

€

1,13

Out of stock

m2

€

84,66
*
Please wait for confirmation of product availability!