High quality roof windows and components
VELUX – high quality roof windows and components. For more than 75 years, the company "VELUX" has been manufacturing roof windows, accessories and installation accessories. Daylight and a healthy indoor climate are very important when planning the premises already at the project stage.
SIA Vides Tehnika in cooperation with VELUX offers its customers roof windows, skylights, installation materials, light tunnels, blinds and accessories for heat protection.
VELUX roof windows allow twice as much light to enter the room as vertical windows of equivalent size. It makes the room significantly brighter and improves the environment for its inhabitants. VELUX's innovative solutions allow you to achieve a healthy indoor climate in your home, even automatically.
In order to choose the most suitable solution for your wishes and needs, we recommend that you get acquainted with the operational and technical properties of each material. We also recommend consulting our specialists, who will help you find the most suitable solutions according to your wishes, needs and possibilities.
Contact us!
General construction materials and consultations
Edijs Čistovs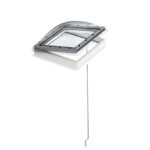 The VELUX skylight with manual control (with service bar) is a great source of daylight for rooms where it is not possible to install classic skylights due to the low roof pitch. We recommend installing skylights on roofs with a slope of 0 to 15 degrees. Single-chamber glass package and innovative technology allow you to protect the room from heat loss and overheating, as well as allow daylight to enter. In this way, energy balance is achieved. The skylights have a narrow frame, so more light and heat enters the room. The insulation of the window is improved by the unique ThermoTechnology ™ system. The window is available with a classic acrylic dome. The window can be equipped with parasols and blinds.
Title
Code
Availability

*

Price per unit
Quantity to buy
60x60cm
CVP 0073U

On order

€

590,00
60x90cm
CVP 0073U

On order

€

619,00
80x80cm
CVP 0073U

On order

€

642,99
90x90cm
CVP 0073U

On order

€

679,00
90x120cm
CVP 0073U

On order

€

735,00
100x100cm
CVP 0073U

On order

€

718,99
100x150cm
CVP 0073U

On order

€

820,00
120x120cm
CVP 0073U

On order

€

807,00
*
Please wait for confirmation of product availability!