High-quality and functional roof windows
Energy efficiency is not only thermal insulation, it is also high-quality and functional roof windows. VELUX roof windows are divided into three main models – Standard, Standard Plus and Premium roof windows.
The Standard roof window is easy to use and safe at a very friendly price for those owners who value functionality. The handle is available at the top or bottom of the sash. The window has better thermal insulation compared to previous Standard roof window models.
Standard Plus roof windows are designed for the owner who cares about energy efficiency and the comfort it provides, as well as the desire to save. The skylights are equipped with a double-glazed unit, which allows you to keep the house warm even in harsh winters. Classic wooden windows or wooden windows with polyurethane coating are available in the window category.
Premium windows provide increased comfort and luxury control. These skylights have an exclusive design and several unique solutions. They provide more light and fresh air, as well as energy efficiency, safety and proven quality. Skylights differ from the rest with laminated glass package, uniquely designed handle, which is ergonomic and special glass package coatings.
In order to choose the most suitable solution for your wishes and needs, we recommend that you familiarize yourself with the operational and technical characteristics of each product. We also recommend that you consult with our specialists, who will help you find the most suitable solutions according to your wishes, needs and possibilities.
Contact us!
General construction materials and consultations
Edijs Čistovs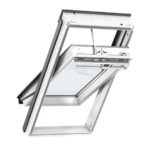 Roof window GGU 008230 is ideal for situations where certified building elements for a passive house are required. This is the first and only roof window on the market that is certified for use in Class A passive house structures in cold climate regions. This skylight consists of a triple outer double glazing and an additional double inner double glazing. The Uw value of the roof window itself is 0.51 W / (m2K) (EN ISO 12567-2), which is the best value on the market. The skylight runs on solar panels. Solar-powered shutters or parasols can be added to increase comfort.
*
Please wait for confirmation of product availability!