Contact us!
Thermal insulation materials, their application, solutions and consultations (eco-wool, wood fiber materials, cellulose and fibrolite)
Intars Rozmans
Contact us!
General construction materials and consultations
Edijs Čistovs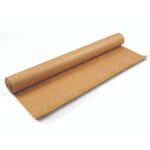 ELT-KRAFT VCL vapor barrier is a breathable, laminated four-layer construction board with reinforcing polyester mesh. ELT-KRAFT VCL is used as a vapor diffusion membrane at the thermal insulation layer in enclosing structures, which are insulated with ecowool. It is recommended to use adhesive tape to join the seams of the material. Material properties and reinforcing polyester mesh ensure easy installation and high mechanical strength.
Title
Code
Width (m)
Length (m)
Square (m2)
Price (m2) with VAT
Availability

*

Calculator
Price per roll with VAT
Quantity for purchase in rolls
ELT-KRAFT VCL vapour barrier, 130cm, 60m2
B87
1.3
46.16
60

€

0,92

Is in stock

m2

€

55,00
*
Please wait for confirmation of product availability!