Contact us!
General construction materials and consultations
Edijs Čistovs
+371 27776690
Heating, plumbing, air conditioning solutions and consulting
Aigars Muraško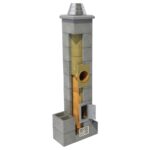 Ceramic flue systems "ERFE" are designed not only for modern solid and liquid fuel stoves with low combustion temperature, but also for traditional heating equipment.
Title
Code
Chimney diameter (mm)
Chimney height (m)
Block size (cm)
Availability

*

Price per piece with VAT
Quantity to buy in pieces
-
-
-

On order

€

0,00
*
Please wait for confirmation of product availability!