Contact us!
General construction materials and consultations
Edijs Čistovs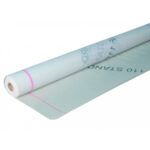 FAKRO KF 110 Standard anti-condensation film is intended for sloping roof constructions both above inhabited attics and above uninhabited attics. Where it is not necessary to use membranes with high vapor permeability, or where there is a demand for durable but cheaper material. FAKRO KF 110 Standard film has a low vapor permeability, it is a very good material against moisture, which can enter the structure through the roof, in the form of rain or snow, as well as protects it from moisture caused by condensate.
*
Please wait for confirmation of product availability!