Contact us!
General construction materials and consultations
Edijs Čistovs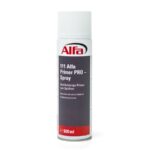 Alfa Primer PRO-Spray is an easy-to-use and extremely fast-drying primer. Thanks to the flexible nozzle, the blowing angle and quantity can be adjusted perfectly. The primer can be used for priming absorbent, fibrous or grainy surfaces, such as aerated concrete, wood fiber boards, particle board, gypsum board, plywood, gypsum and other materials. It is suitable as a base coating for safe and airtight bonding of sealing tapes, butyl and bitumen tapes.
Title
Code
Quantity in box
Availability

*

Price per piece with VAT
Quantity to buy in pieces
Alfa Primer PRO-Spray, 500ml
1110500
6

Out of stock

€

23,75
*
Please wait for confirmation of product availability!