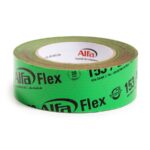 Alfa Flex is a single-sided, high-performance film adhesive tape designed for durable sealing of joints in vapor-impermeable thermal insulation layers. The airtight construction capsule saves energy and protects the structure from damage. Alfa Flex is universally applicable in roof and interior constructions and, thanks to its flexible and flexible foil, is ideal for securing through-seams at the insulation level (eg exhaust pipes, electrical cable ducts, windows, rafters, cables, etc.). Ideal for installing joints in building panels (OSB boards). Can also be used to install through-seams and lay underground layers.
Title
Code
Width (mm)
Length (m)
Price (m) with VAT
Availability

*

Price per roll with VAT
Quantity for purchase in rolls
100mmx25m
1532510
100
25

€

1,40

Out of stock

€

35,14
150mmx25m
1532515
150
25

€

1,72

Out of stock

€

42,85
50mmx25m
1532550
50
25

€

0,61

Out of stock

€

15,23
*
Please wait for confirmation of product availability!